Eye Drops for redness in Eye: Opdenas Lifesciences
Eye Drops for redness in Eye: Since eye redness frequently goes hand in hand with symptoms like ocular itching or pain, it can be bothersome and uncomfortable. You may be looking for respite from this discomfort, which eye drops might provide. The treatment and relief of red eyes can be achieved by using antihistamine eye drops, lubricating eye drops, and preservative-free eye drops.
Opdenas Lifesciences have a complete range of Eye drops & other ophthalmic products which helps in curing all types of eye related problems very easily. Contact Opdenas Lifesciences for Eye Drops PCD for redness in Eye or any other ENT or eye related medicines.
What Are Red Eyes?
Red eye typically occurs when your eyes get irritated from dryness, allergies or environmental conditions. The eye's tiny blood vessels—located on the sclera, or white part of the eye—cause the eye to turn red when inflamed.
If you have red eyes, know that it's typically a non-severe condition. Besides redness, common symptoms of red eye include:
Physical pain
Itchiness
Eye discharge
Photophobia or sensitivity to bright lights
Note that the red eye shares similar symptoms with conjunctivitis (or pink eye), including itchiness and eye discharge. If you suspect that you're dealing with pink eye-related symptoms, consult with a vision care specialist such as an optometrist or ophthalmologist.
Why Are My Eyes Red?
Red eyes can occur when you experience "anything that causes stress to the eye and triggers the blood vessels on the white part of the eye to engorge. This condition can emerge from a wide range of causes. Some common causes include:
Insufficient rest
Prolonged contact lens wear
Allergic reactions
Eye infections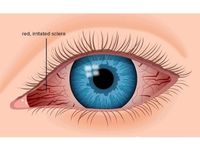 What Types of Eye Drops Are Best for Red Eyes?
Certain eye drops are designated for certain underlying causes. antihistamine drops are intended to treat allergies and antibiotic drops are used for bacterial infections. Most antihistamine eye drops are available over the counter, like Pataday. Antibiotic eye drops require an approved prescription from a doctor.
Mild cases of red eye can be treated with OTC eye drops or preservative-free artificial tears. "Preservatives can cause ocular surface toxicity and worsen irritation and should not be used more than 4 [times] a day," she says. Thus, preservative-free lubricants and antihistamine eye drops are safer for frequent use.
In more serious cases, red eyes may require prescription eye drops or even medical attention.
When to See a Doctor
If you experience prolonged eye discomfort or blurry vision, visit your optometrist or ophthalmologist for testing. Following a thorough medical history review and eye examination, your doctor can confirm whether you're dealing with a more serious condition, such as "infection or inflammation from an autoimmune disease. These experts can also advise you on treatment options best tailored to your needs.
Eye Drops for redness in Eye- Ophthalmic products with compositions
As a result, here are some pharma products in which we are working for the Eye Drops for redness in Eye. Also, you can call opdenas Lifesciences at the company's Phone number: +91 98140 20377 to get details about the best high profits business across different parts of PAN India.
| | |
| --- | --- |
| ENT Products | Tablets |
| Eye Drops | Capsules: |
| Ear Products | Hard Shell Capsules |
| Nasal Products | Soft Gel Capsules |
| Eye drops | Eye Ointments |
Here is the list of a few Opdenas Lifesciences Pharma products of our products along with compositions of products.
Medicine
Brand Name
Composition
Tablets
OzineOzine-PR
Flunarizine 10 mgFlunarizine 10 mg + Propranolol 40 mg (SR)
Ear Drops
Earact
Gentamicin 0.3% + Clotrimazole 1% + Lignocaine 2% + Beclomethasone Dipropionate 0.025%
Eye drops
PredsunOptonatNugatLubtal
Prednisolone 1%Natamycin 0.5%Gatifloxacin 0.3%Polyethylene Glycol 0.4% + Propylene Glycol 0.3%
Ointments
OptomoxOpdeclor
Moxifloxacin .5%Chloramphenicol Hydrocortisone Acetate
Capsules
Optofit

Opdevit
Astaxanthin 2 mg +Lutein 10 mg + Zeaxanthin 2 mg +Omega 3 Fatty Acid 500 mg + Vitamin A 1000 I.UGrape Seed extract 25 mg + Lutein (8%) .3 mg+ Lycopene (6%) 2 mg+ Vit.A 5000 I.U.+ Zinc 23 mg+ Vit .B1- 5 mg + Vit. B2- 5 mg+ Vit. B6 -1.5 mg + Folic Acid 1.5 mg + Zinc Sulphate 23 mg+ Selenium 75 mcg + Vit. B 12- 15 mcg
Contact us for Eye Drops for redness in Eye
Text or call us for more details regarding ENT products in addition to Eye Drops for redness in Eye with any other related Queries.
Related Searches
Top 10 eye drops for red eyes
eye drops for red eyes and pain
best eye drops for red eyes
eye drops for infection
prescription eye drops for red eyes
natural eye drops for red eyes
how to clear red eyes without eye drops
eye drops for red eyes child